Despite the traditional notion thatmen's fashion is limited in its variety, the recent Men's fashion weekshattered those stereotypes.
The emergence of roomy shorts andextra-long, wide-legged pants took centre stage, challenging the status quo andcreating a bold silhouette.
But it didn't stop there. The fashionworld was in awe as celebrities like Chris Pine showcased the trend of messycuffing and slouchy elegance, exuding a relaxed yet sophisticated vibe.
And who could forget the barefoot walksthat graced the runways of Milan Fashion Week, mirroring a carefree and casuallifestyle?
In this article, we will delve into thecaptivating trends of men's fashion week, exploring the allure of roomy shorts,the charm of slouchy style, and the boldness of barefoot walks.
Key Takeaways
• Roomy shorts were a dominanttrend at the spring shows.
• Slouchy elegance was a commonlook on the runways.
• Loafers were a popular choiceof footwear.
• The scorching heat likelyinfluenced fashion choices, including barefoot walks.
Roomy Shorts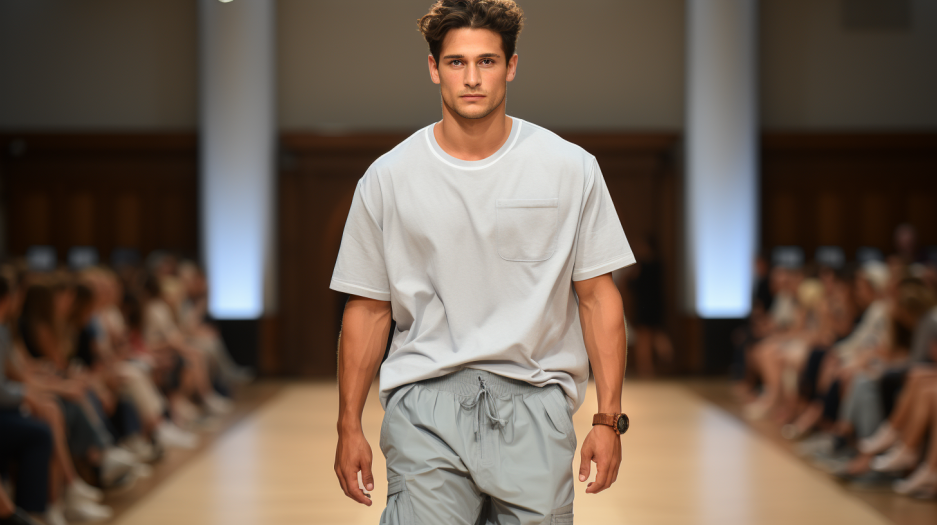 Roomy shorts, which were a dominant trendat the spring shows, added a relaxed and effortless vibe to the outfitsshowcased during men's fashion week. These loose-fitting shorts were theperfect choice for summer fashion, providing both comfort and style.
Designers incorporated roomy shorts intotheir collections, pairing them with tailored shirts and jackets for asophisticated yet laid-back look. The roomy silhouette allowed for ease ofmovement, making them ideal for warm weather activities.
Whether in lightweight fabrics or boldprints, these shorts became a staple in men's summer wardrobes. They offered arefreshing alternative to slim-fit shorts, allowing men to embrace a morerelaxed and casual aesthetic.
With their versatility and comfort, roomyshorts proved to be a standout trend of men's fashion week.
Extra-long Pants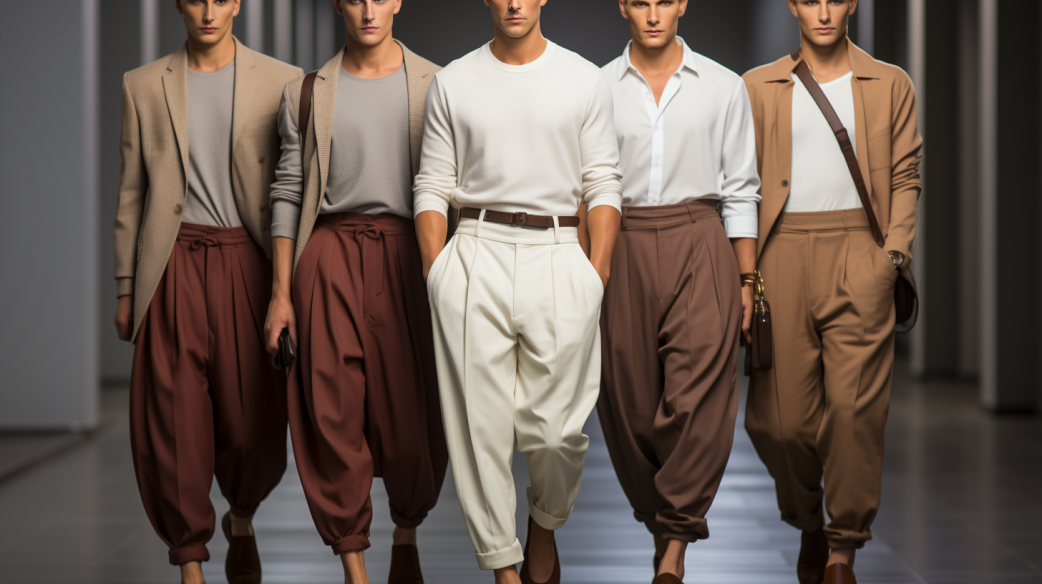 Chris Pine embraced the trend ofextra-long pants during men's fashion week, creating a stylish and dramaticsilhouette. These pants are specifically designed for tall men, providing aflattering and elongating effect. To help you style extra-long pants, here aresome tips:
1. Pair with fitted tops: Balancethe loose fit of the pants with a more form-fitting top to create awell-proportioned look.
2. Choose the right footwear: Optfor shoes with a bit of height, such as platform sneakers or boots, to furtherenhance the lengthening effect.
3. Experiment with cuffing: Playwith different cuffing techniques to add personal flair to your outfit. Thiscan range from a simple roll to a more intricate fold.
By following these styling tips, youcan confidently rock the extra-long pants trend and create a fashion-forwardstatement. Give it a try and elevate your style game!
Wide-legged Pants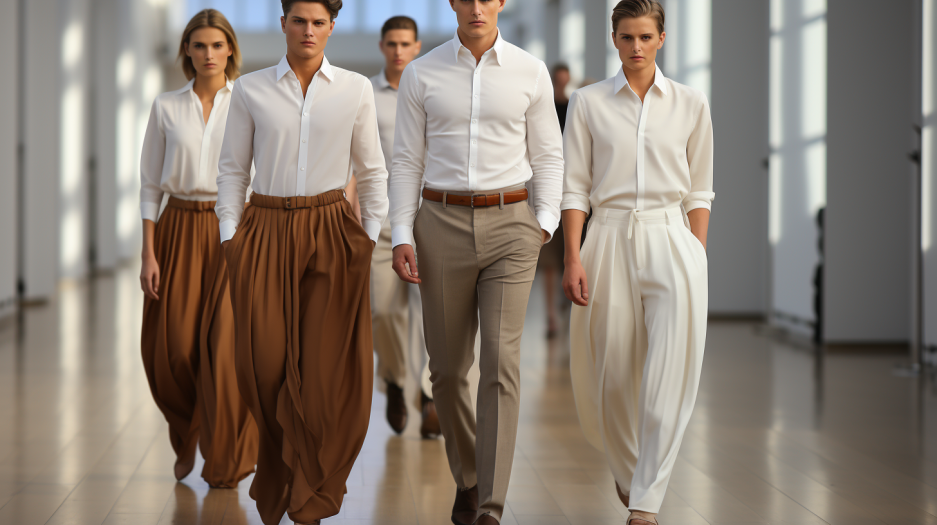 Wide-legged pants are a standout trend atmen's fashion week, adding a touch of sophistication and drama to outfits.Embraced by both designers and celebrities, these pants are making a boldstatement on the runways and red carpets.
Here are some styling tips forwide-legged pants:
• Pair them with a fitted shirtor a tucked-in sweater to balance out the volume.
• Opt for high-waisted styles toelongate the legs and create a flattering silhouette.
• Experiment with differenttextures and fabrics, such as linen or wool, to add depth to your look.
• Play with proportions by pairingwide-legged pants with cropped jackets or oversized coats.
• Complete the outfit withstatement accessories, like a wide-brimmed hat or a bold belt.
Celebrities like Chris Pine andTimothée Chalamet have been spotted embracing the wide-legged pants trend, effortlesslycombining style and comfort. So why not elevate your wardrobe with thesefashion-forward pants and make a statement of your own?
Pooling Pants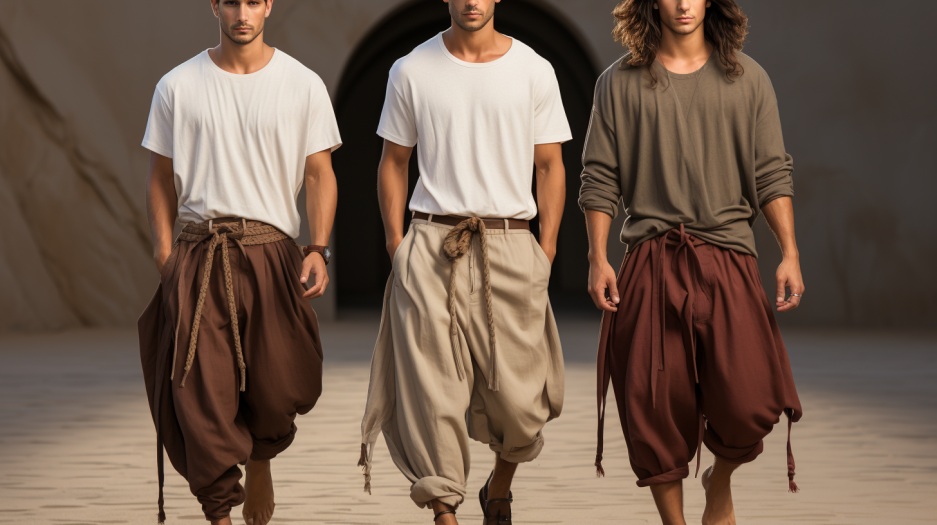 During Milan fashion week, designersshowcased the unique style of pooling pants. They intentionally left them longto create a dramatic and eye-catching effect. Pooling pants, also known as'floor-sweeping' or 'oversized' pants, have become a popular trend embraced bycelebrities and fashion enthusiasts alike.
These pants add a touch of elegance andsophistication to any outfit, instantly elevating the overall look. To stylepooling pants, it is important to balance the volume of the pants with a fittedor tailored top. This creates a harmonious silhouette and prevents the outfitfrom appearing overwhelming.
Additionally, pairing pooling pants withheels or platform shoes can help elongate the legs and create a more polishedlook. Celebrities such as Rihanna and Zendaya have been seen rocking this trendon red carpets, further solidifying the popularity and versatility of poolingpants in the fashion world.
Messy Cuffing
The messy cuffing of pants adds a casual andeffortless touch to outfits, creating a relaxed and laid-back vibe. This trendycuffing technique has become a popular styling choice among fashion-forwardindividuals.
Here are three trendy cuffing techniquesto elevate your look:
1. The Roll-Up: Simply roll thehem of your pants once or twice to create a neat and casual cuff. Thistechnique works well with jeans, chinos, and trousers, giving your outfit atouch of cool nonchalance.
2. The Half-Tuck: For a morerelaxed and undone look, tuck one side of your pants into your shoe whileleaving the other side untucked. This asymmetrical cuffing technique adds aninteresting and stylish element to your outfit.
3. The Double Roll: Take yourcuffing game to the next level by rolling the hem twice, creating a thickercuff. This technique works best with lightweight fabrics and cropped pants,adding a touch of sophistication to your ensemble.
Experiment with these cuffed pantsstyling techniques to effortlessly elevate your outfits and embrace a trendyand laid-back aesthetic.
Slouchy Elegance
The relaxed and effortless vibe ofslouchy elegance was evident in many of the fashion week shows. Designersembraced this trend, showcasing loose-fitting clothing that exuded a sense ofrelaxed sophistication.
The nonchalant aesthetic added a touch ofnonchalance to outfits, creating a laid-back yet stylish look. The use ofvolume and draping in garments further enhanced the relaxed vibe, allowing forfreedom of movement and comfort.
This slouchy style added a sense of easeand effortlessness to the overall aesthetic, making it a standout trend on therunways. It was a refreshing departure from more structured and tailored looks,offering a more relaxed and casual approach to fashion.
The combination of relaxed sophisticationand a nonchalant aesthetic made slouchy elegance a key trend during fashionweek, captivating the attention of fashion enthusiasts.
Frequently Asked Questions


What are some popular brands or designers that showcasedroomy shorts at Men's Fashion Week?
Popular brands and designers thatshowcased roomy shorts at men's fashion week include Prada, Dior, and Gucci.Styling tips for extra-long pants include pairing them with cropped tops orfitted jackets to balance the silhouette.
How can I style extra-long pants to create a fashionablelook?
To rock extra-long pants, embrace the"I've borrowed my dad's pants" look. Pair them with chunky sneakersfor an edgy vibe. Don't forget to roll them up to show off those trendy socks!
Are wide-legged pants suitable for all body types?
Wide-legged pants can be suitable fordifferent body types. They can create a dramatic silhouette and add volume tooutfits. However, it's important to consider proportions and find the right fitto flatter each individual's shape.
What are some alternative ways to achieve the poolingeffect with pants?
Achieve the pooling effect with pantsby experimenting with different cuffing techniques, such as rolling, folding,or tucking. To wear a slouchy style, try pairing loose-fitting tops with tailoredbottoms for a balanced look. When choosing the right length for roomy shorts,consider your body proportions and opt for a length that flatters your figure.
Can you provide tips on how to cuff pants in a messy yetstylish way?
Messy cuffing techniques can add astylish and effortless touch to pants. DIY distressed cuffing styles, such asuneven folds and rugged edges, create a cool and casual look that complements avariety of outfits.